PMI South Alabama Chapter
Montgomery, AL
New Board of Directors Nominees!
Congratulations to the new Board of Directors nominees for 2023!
The PMI South Alabama chapter is pleased to announce that all Nominees presented for board positions for term starting in 2023, were approved by the Chapter in our annual Meeting on October 13, 2022.
Chapter President (2023):
John Crilly
Director at Large for Finance (2023 & 2024):
Andrea Cathey
Director at Large for Volunteers, Membership, and Networking (2023 & 2024):
Dr. Diana Gray
Vice President for Technology:
Jarvis Ewing
Please look for more information soon as the board transitions to 2023 and continues planning for new growth for the chapter in upcoming year!
Upcoming Events
Upcoming events
12-08-2022
5:00 pm
-
9:30 pm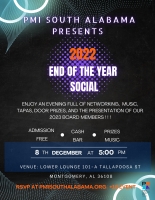 END OF THE YEAR ANNUAL SOCIAL
DECEMBER 8, 2022 5:30 pm-9:30 pm
Event Title: Breaking the Barriers
Location:
The Lower Lounge
101-A Tallapoosa St, Montgomery, AL 36104
Meal: Tapas and Cash Bar
Registration: Free with online RSVP
Abstract: 2022 for PMI South Alabama has had a successful year full of networking, chapter development, and individualized professional development set around a hybrid schedule of zoom and in-person meetings. We want to keep the momentum going by reintroducing our end-of-the-year social. It will be an evening of music, mingling, door prizes, and more.
One of our goals at PMI South Alabama is to build upon existing project management-related networks in the River Region and expand those networks by embracing new institutions and populations that can benefit thereby. Our end of the year the social embodies this goal.
It is set to be an informal evening gathering that connects our members to local industry leaders and their platforms that segway into the presentation of our 2023 annual calendar and formal introduction of board members.
As we network, eat, and mingle you will have the opportunity to get one-on-one experiences with our 2023 board members and gain insight into how we plan to work together and others to enhance the vision, mission, and goals of PMI South Alabama.
We ultimately aim to further engage and reengage members within the chapter while building awareness to project management practitioners in the Southern Regions of Alabama.
Keeping the goals of our mission at the forefront of our planning allows the capacity to create the best value for our members and the project management practitioner community.
Join us as we end 2022 ascending into 2023 striving to reach higher levels in PMI South Alabama.
2022 Officers
President - David Hardgrave
President Elect - John Crilly
Past President - Jeremy Bradford
Director of Governance - Karen Standard
Director of Finance - John Crilly
Director at Large for Marketing, Branding and Communications - Shontoria Quarles
Functional VP for Technology #1 – William Kagawa; Volunteer - Jarvis Ewing
Director at Large for Membership, Volunteers and Networking - William Kagawa
VP Outreach -
Director at Large for Programs and Educational Development - Brian Bozeman
VP Programs – John Dennett
We, your chapter board, stand ready to respond to your questions, concerns, suggestions, and needs. As we build on the success of 2021, we ask your help in any form or fashion you provide, whether it be in attending chapter events, volunteering to help the chapter, or just offering suggestions.
If anyone wishes to volunteer a few hours each month and gain some PDUs as a Board or Volunteer member please send an email to: volunteers@pmisouthalabama.org
Get Involved

Be part of the largest PM community The PMI South Alabama Chapter is looking for volunteers who want to help lead a dynamic and growing organization. Please consider this great opportunity to offer your leadership expertise and ideas to the organization.

Project Management Institute (PMI) South Alabama Chapter offers a number of different opportunities to give back and make a lasting difference for the volunteer, South Alabama Chapter and professional project management community. Make your mark on the South Alabama Chapter, the profession, and our local community by volunteering.

Get Involved. Volunteering is an excellent way to build your professional network, increase your skills and develop as a leader. These opportunities are open and encouraged for every chapter member.

Earn PDUs. If you hold a PMI credential, then your volunteer activities can earn Professional Development Units to help you meet your continuing certification requirements.

We need you!
Chapter Membership
US$25/year
Be part of the largest PM community
Get more, free opportunities to earn PDUs
Save on career-advancing certifications
Expand your network
Membership Statistics
| | |
| --- | --- |
| Total Members | 177 |
| New Members This Year | 42 |
| PMP® Members | 112 |
| CAPM® Members | 4 |
| PgMP® Members | 0 |
| PMI-SP® Members | 0 |
| PMI-RMP® Members | 0 |
| PMI-ACP® Members | 5 |
| PfMP® Members | 0 |
| PMI-PBA® Members | 1 |
| Members with no Certification | 62 |
| Breakdown by type | |
| Individual Members | 166 |
| Student Members | 8 |
| Other Members | 3 |
PMP/CAPM/PgMP/PMI-SP/PMI-RMP/PMI-ACP/PfMP/PMI-PBA are registered marks of the Project Management Institute, Inc.
Members in Spotlight
Jennifer Turner, PMP
Holly Mensen, PMP
William T McVay
SHONTORIA QUARLES
Michael Somuah Nkansah, PMP
Tequeada Huntley
Jennifer Barron, PMP
Susan Easterling
Virginia Neslein, PMP
Alesa Stewart
Thomas Fincher, PMP
Jason Knight, PMP
Shawn Peterson, PMP
Grazia Russo-Lassner, PMP
Damian Weitherspoon, PMP
Brian Bozeman, PMP
Charles Kaiser, PMP
Sponsorship Opportunities
The Project Management Institute, with members in 135 countries, is the world's foremost authority for the project management profession. PMI sets industry standards, conducts research, and provides education and certification opportunities designed to strengthen and further establish the profession. Our chapter proudly serves all the local and national professionals in the space of Project Management.